Welcome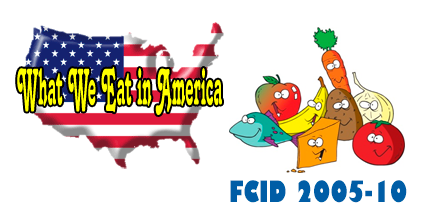 Welcome to the U.S. EPA's What We Eat in America - Food Commodity Intake Database, 2005-2010 (WWEIA-FCID 2005-10)!
WWEIA-FCID 2005-10 was developed by U.S. EPA's Office of Pesticide Programs (OPP) to improve the utility of the WWEIA food consumption survey for dietary exposure assessment. WWEIA-FCID 2005-10 translates food consumption as reported eaten in WWEIA (1999-10 survey cycles) and CSFII (1994-96/1998) surveys into consumption of U.S. EPA-defined food commodities. Such food commodity intakes are expressed as grams of food commodity consumed per kg bodyweight per day for over 500 commodities derived from more than 7000 different foods and beverages reported in the two surveys. WWEIA-FCID 2005-10 is intended to complement the CSFII and NHANES/WWEIA databases in that it provides estimates of food consumption expressed as food commodities as opposed to foods per se (i.e., "as eaten") which can in some exposure and other situations be of more utility. The database also includes WWEIA 2005-10 food consumption and demographic data that is available through CDC's National Center for Health Statistics at this page.
Getting Started
Click the buttons below to get started.
The FCID Recipes button provides a form that can be used to search FCID recipes and generate a printer-friendly report.
The FCID Commodity Consumption Calculator button is an application that uses NHANES/WWEIA food intake and FCID recipes to estimate food commodity consumption.
The Database Contents button provides a navigable list of tables and forms in the database.